---
App Gives Japanese Drivers Free Coffee for Not Checking Their Phones at The Wheel
Posted: 23 Sep 2016 07:06 AM PDT
In a bid to convince drivers in Aichi Prefecture to keep their hands on the wheel and their eyes on the road, a new Japanese smartphone app offers free coffee coupons to drivers who don't check their phones for at least 100 km.
For the last 13 years, Aichi Prefecture has recorded the highest rate of traffic fatalities in Japan. Last year, there were 443,691 accidents that resulted in injuries or deaths, and 50,101 arrests involving the use of smartphones while driving. With handhelds becoming such a big part of people's lives, there appears to be an increase in violations of this nature, and authorities have yet to come up with an effective plan to combat the problem.
Interestingly, a trio of Japanese company seem to think that an ingenious new app could incentivize drivers to restrain themselves from checking their phones at the wheel and reduce the number of traffic accidents. Toyota Motor Corporation, Komeda Co Ltd and KDDI Corporation have teamed up to create Driving Barista, an app that uses the phone's gyro sensor to sense the tilt of the device, and the GPS to determine the distance driven. This allows it to calculate the number of kilometers a driver has traveled with the smartphone facing down.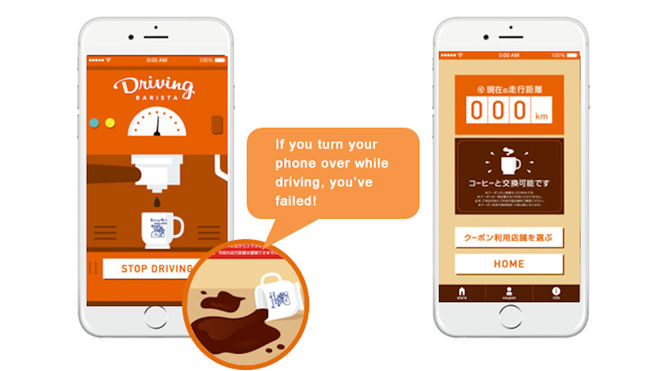 Mother Forces Toddler Son to Sit in a Parking for 20 Minutes to Save Her a Spot
Posted: 23 Sep 2016 05:41 AM PDT
A photo showing a young boy sitting in a busy Kuala Lumpur parking lot has been doing the rounds online, causing controversy. According to the original Facebook post, the boy had to wait all alone in the hot sun for 20 minutes, to save the empty spot for his mother, while she went to bring the car.
The incident took place in a business area on Jalan Kuchai Lama road, in Kuala Lumpur, where it is usually difficult to find a parking spot during peak hours. The mother allegedly had the bright idea to leave her young son sitting in a free parking space, to save it,  while she went back to where she originally left the car. According to a Facebook post that has so far been shared over 8,000 times, the young boy was left unattended for 20 minutes.
Activist To Wear All The Trash He Creates in a Month
Posted: 23 Sep 2016 04:45 AM PDT
Environmentalist Rob Greenfield wants to change the way Americans think about their trash footprint by wearing every piece of trash he creates over 30 days.
"For one month, Rob Greenfield is going to live like the average American. He'll eat, shop, and consume just like the average American which produces 4.5 pounds of trash per day. The catch? He has to wear every piece of trash he creates," an announcement on his website states. "That's over 30 pounds of trash on his body by the end of the first week and nearly 140 pounds by the end of the month (almost his body weight)! Every coffee cup, plastic bag, pizza box, every single piece of trash he creates will be on his body, everywhere he goes."
The idea behind Rob's "TrashMe" project is to show people the cumulative effects of trash. Most people never think about how much waste they are producing every month. They just seal their garbage bags, put them in the bin and wait for someone to pick it up. But what if they came face to face with a walking, talking display of overconsumption? That might get them thinking about the world's growing trash problem and maybe even get them to limit the amount of trash they generate.