---
Guy Lets His Girlfriend Sleep with Other Men as Long as She Doesn't Leave Him
Posted: 17 Feb 2017 08:44 AM PST
Open relationships are not that uncommon nowadays, but they usually imply that both partners are allowed to see other people. That's not the case of Adam Gillet and Beatrice Gibbs, from Milton Keynes, Britain. 27-year-old Adam has agreed to let his 22-year-old girlfriend sleep with other men, for fear that he would otherwise lose her. However, Beatrice is not ok with him seeing other women.
Adam, a warehouse worker, and Beatrice, who works as a makeup artist, met in 2014, on a pub crawl. They had a one night stand, but didn't officially become a couple until April 2015. However, their romantic relationship appeared to be short-lived,as Beatrice, who wasn't ready to commit to just one man full-time, decided to end it after just one month. Adam was devastated, but upon hearing that she loved him, but didn't think she could resist other men, he did what any other men in his shoes would have done – he agreed to let Beatrice have her one nigh-stands, as long as she gave their relationship another chance. They've been together ever since.
Beatrice is free to sleep with whoever she wants, whenever she wants, as long as she's honest with Adam about it. He doesn't have the same privileges, though, as his girlfriend claims that she couldn't handle the thought of him being with another woman. Luckily, she apparently has nothing to worry about, as Adam insists he's not interested in chasing other women.
Israeli Woman Accidentally Steps on Garden Snail, Takes It to the Vet to Save Its Life
Posted: 17 Feb 2017 04:25 AM PST
The life of one garden snail may not mean very much in the grand scheme of things, but for one Israeli woman who accidentally stepped on one, cracking its brittle shell, it was enough to warrant a visit to the local vet clinic.
It's quite in rainy in Tel Aviv this time of year, and moisture-loving garden snails are very active. They sometimes venture outside their natural habitat, and, unfortunately, some of them get stepped on by careless humans. Most of the time the snail get squashed, but, in the most fortunate cases, only their shells get damaged. If they don't suffer major injuries to their bodies, snails will usually fix their mobile homes by drawing in calcium, but one lady in the Israeli capital didn't want to leave anything to chance after accidentally stepping on a slow-crawling snail.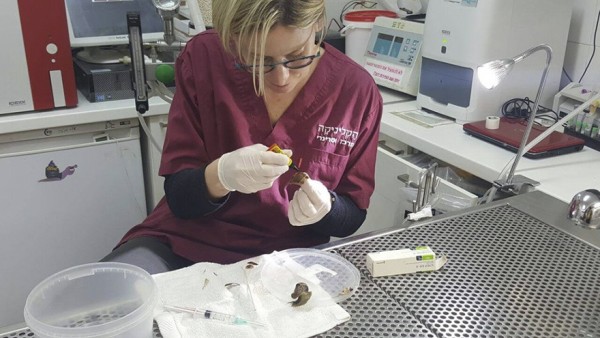 Paternity Testing Lab Causes Stir with Controversial Billboards
Posted: 17 Feb 2017 03:26 AM PST
Labs To Go, a paternity testing laboratory in Virginia Beach, has come under fire for its use of a couple of controversial billboards that they claim were just intended to be funny. People didn't see them that way, though, and it's easy to see why.
The billboard that got the most attention in the media is located off Armistead Ave. near Downtown Hampton, and shows a male U.S. soldier standing next to a smiling postman, with the catchphrase "Who's the Daddy" taking up most of the advertising space. While the fact that they chose an African-American man as the postman and a Caucasian soldier makes the joke extremely obvious, that didn't prevent folks from expressing their disapproval of the advert.
The second Labs To Go Billboard is on display in Norfolk, and shows a blonde woman with a Pinocchio-like nose next to the catchphrase "Is the Mother a Liar?" and phone number of the paternity testing lab. This one didn't sit too well with the local community either.