---
Man Sprays Insecticide in Ear to Kill Trapped Cockroach
Posted: 08 Feb 2017 11:58 AM PST
After several attempts to remove a cockroach that had crawled into his ear while he was sleeping, a Chinese man decided to kill the intruder by spraying bug spray into his ear canal.
The 60-year-old man from Chengdu told doctors that a cockroach crawled into his ear on February 1st. He could feel it wiggling around inside, so he tried to force it out with various tools. First he tried using his fingers, then he moved on to ear wax scoops, toothpicks and tweezers. None of them proved successful, so he then tried scaring the insect by hitting his head with his hands, but that didn't work either. After three days the insect seemed to have advanced further into his ear, so he decided it was time for desperate measures. He grabbed a canned on insecticide and sprayed it into his ear, hoping to kill the intruder.
The Tagada – Probably the World's Craziest Amusement Park Ride
Posted: 08 Feb 2017 10:28 AM PST
Ever wonder what it would feel like to be thrown around in a giant metal bowl with only a few metal bars keeping you from literally flying out of the bowl or bumping face first into other people? If so, all you have to do is take a ride on a Tagada, one of the most dangerous amusement park rides ever invented.
The Tagada may not be as fast or as steep as a roller-coaster, but it is certainly more dangerous. You may scream in terror when riding on a roller-coaster, but deep in your mind you know that you are safely harnessed to your seat and the chances of something going wrong are very small. With the Tagada, on the other hand, the total lack of restraints makes the danger of physical injury very real, but that's exactly what makes it so popular with thrill seekers.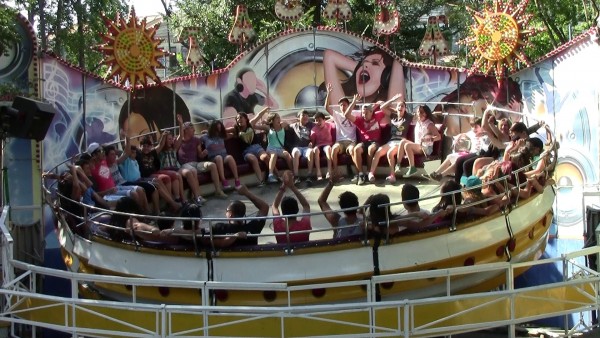 The Tragic Story of a Taiwanese Vet Who Euthanized Herself After Having to Put Down Too Many Dogs
Posted: 08 Feb 2017 07:55 AM PST
Taiwan recently banned euthanizing abandoned animals in shelters, a law believed to have been prompted by the shocking suicide of a young veterinarian, in May 2016. 31-year-old Chien Chih-cheng injected herself with euthanasia drugs, after becoming extremely disturbed by the large number of animals she had to put down.
Chien Chih-cheng was the director of of an animal shelter in Taoyuan's Sinwu District. She had chosen to work at the shelter because of her love for animals, and her colleagues remember that she "often worked overtime, rarely took a proper lunch break, and sacrificed her holidays to give the dogs more attention and make their lives better." After graduating from one of Taiwan's top university with the highest score in a civil service examination, Chien could have opted for a number of desk jobs, but she chose to dedicate her life to helping abandoned animals and getting them adopted by new families. But her job also required her to euthanize the animals that didn't get adopted after a certain period of time, and this took a heavy toll on the young animal lover, especially after animal rights activists accused her of killing hundreds of abandoned dogs.
"Some animal welfare activists have unleashed relentless attacks on the Sinwu shelter and Chien was a target of those attacks," Taoyuan City Councilor Wang Hao-yu wrote on Facebook last year. "She was even described as a 'butcher.' For a young woman who chose to work at the shelter because of her love for animals and whose duties involved euthanizing stray animals every day, those abuses were like stabs to the heart."