---
Russian Programmer 3D-Prints His Very Own T-800 Terminator Robot Complete with Artificial Intelligence
Posted: 22 Feb 2017 12:10 PM PST
The machine-dominated world envisioned by James Cameron in "Terminator" once seemed like pure science fiction, but now, not so much. Just a few days ago, a Russian programmer from Perm unveiled his 3D-printed version of the T-800 robot featured in Cameron's famous blockbuster, and while it can currently only move its head, it is equipped with a "brain" that allows it to speak and even answer various questions, by looking up the answers on the internet.
Perm-based programmer Alexander Osipovich knew he wanted to one day build his own Terminator robot as a child, after watching the 1984 movie featuring Arnold Schwarzenegger. In 2009, while studying programming at university, Osipovich started working on a program that would one day act as the brain of his real-life T-800 machine. Over the next two years, he developed multiple versions of it in Visual Basic, and in 2011 he decided that technology had come far enough to allow him to fulfill his childhood dream.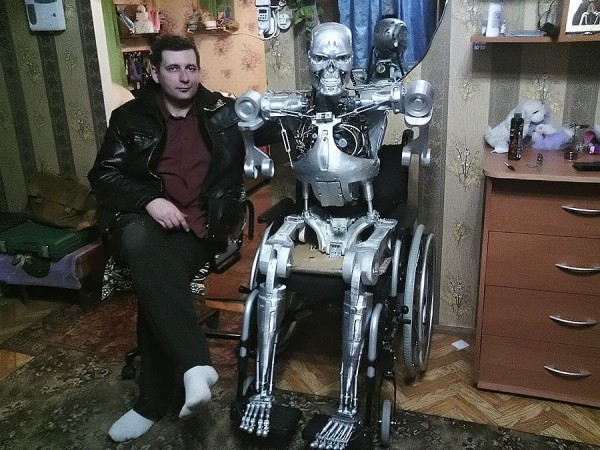 These "Smarter Socks" Can Communicate with Your Smartphone
Posted: 22 Feb 2017 10:24 AM PST
What if your smartphones could send data about themselves to your iPhone? It sounds absurd, but Swiss sock manufacturer BlackSocks has been producing "Smarter Socks" that actually communicate with the owner's smartphone ever since 2012. And yes, you can still buy them, but they're definitely not cheap.
BlackSocks believes mankind is made for greater things than sorting socks, so in order to save their clients some valuable time, they came up with a high-tech way of helping them figure out which two socks go together. They might have overdone it a little bit, though, as this system involves Radio-frequency identification (RFID) chips on the socks, a handheld device that decodes the info on these chips, as well as a dedicated app for your smartphone. It sounds like a pretty complicated system for such a simple task as sorting out socks, but if you're the kind of guy who likes to keep his socks paired, you're going to love it.
Kenya's "Elephant Guardian" Vows to Deliver Water to Thirsty Drought-Stricken Wildlife Until It Rains Again
Posted: 22 Feb 2017 08:32 AM PST
It is very dry in Kenya's Tsavo East National Park, and the animals there are struggling to find vital water water sources. The bad news is that rain isn't expected to fall again until November, but the good news is that there are people willing to bring water to the animals by the truckload until that happens.
Patrick Kilonzo Mwalua is the founder of Tsavo Volunteers, a group of animal lovers who look after the vulnerable wildlife of Tsavo National Park. Poachers are generally their biggest problem, but these days, the drought is threatening to kill even more animals . The prolonged drought has made water "a very precious commodity", and thirsty animals sometimes have to walk long distances to find the few watering holes that haven't dried up. Due to their scarcity, elephants often fight each other for the right to drink, which leaves the smaller, weaker ones at risk of dying. But Patrick and his team are not about to let that happen.