---
World's First Vibrating Jeans Act as a Wearable GPS
Posted: 10 Jan 2017 10:51 AM PST
French company Spinalli Design has recently unveiled a collection of smart vibrating jeans that connect to your smartphone to provide directions to your destination. Equipped with sensors on each side, the Essential jeans vibrate every time you need to turn left or right.
Recently featured at the 2016 CES show in Las Vegas, the Spinalli Design Essential jeans have been dubbed the dumbest 'smart' invention out of the consumer electronics show. Essentially, what it tries to do is eliminate the need to constantly check your phone when trying to use satellite navigation in an unknown neighborhood. All you need to do is pair the jeans with your smartphone, turn on the GPS feature, and let the jeans guide you to your destination. They do this via a couple of sensors located on each side, which vibrate alternatively every time you need to turn left or right. If you're going the wrong way, both sensors vibrate at the same time. "This technology provides an easier, and above all more intuitive option to help you find your car or your meeting place, for example," the Spinalli Design website explains.
The Essential jeans have a built-in, non-removable battery that the French company claims should last four years if you use the GPS feature once a week. If you use it less than that, it should last more.
Startup Creates Stain and Odour-Resistant Cotton Shirts
Posted: 10 Jan 2017 07:34 AM PST
Let's face it, red wine and sweat are the bane of stylish clothing. No matter how careful you try to be, you can only dodge wine stains for so long, and there's really no escaping those yellowish sweat stains around the armpits. They'll make you throw away an otherwise perfectly good shirt, but there's really no other way around it. Or is there?
Amsterdam-based startup Labfresh claims to have come up with a range of cotton shirt and ties that make all sorts of problematic stains a non-issue. Not only that, but it supposedly prevents any smells from adhering to the fabric and is wrinkle resistant, requiring only minimal ironing. It sounds too good to be true, but Labfresh founders Kasper Brandi Petersen and Lotte Fink claim that their innovative INDUO technology can do all that and more, while preserving the cotton shirts' natural feel.
"It is like cotton, but better!" Labfresh claims. "The INDUO technology blocks out all fluid and bacteria before it enters the fabric. Therefore you can rinse off almost any substance with ease. To achieve this we work on every aspect of the fabric – from the cotton selected to the way the yarns are spun and then woven. Our cotton is also treated so that the fibers are transformed to their very core, unlike other existing technologies, which can remain on the surface and wash off."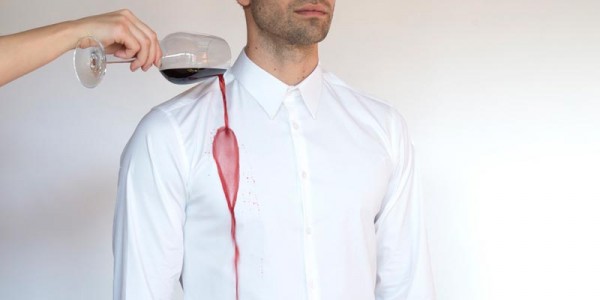 Adult Adoption – The Secret to Preserving Centuries-Old Japanese Family Businesses
Posted: 10 Jan 2017 05:40 AM PST
Japan has one of the highest adoption rates in the world, with over 80,000 legal adoptions recorded every year. Yet when it comes to adopting children, the Asian country is lagging way behind most developed countries. That's because around 98% of Japanese adoptees are bright young men in their 20s and 30s.
At the same time, while studies have shown that family-controlled businesses are generally unsustainable over long periods of time –  mostly due to the fact that business acumen and intelligence are only partially inherited – it's interesting to see that not only are a third of Japanese corporations family-run, but they are also clearly outperforming professionally managed companies in almost every way. Statistics show that family firms are more profitable, have a higher market valuation and increased sales compared to their rivals. Even more curious is that giants like Suzuki, Toyota or Matsui Securities have managed to keep it all in the family for over a hundred years, and other family businesses for even longer than that.
But what does the remarkable success of family business have to do with the high rate of adult adoption, right? Well, in Japan at least, these two curiosities are very closely linked. Prior to the Second World War, civil code in Japan decreed family wealth could only be passed down through male lines, traditionally to the first born son. So families with no male heirs or with sons deemed unsuitable to take over the family business turned to adoption, but not the kind most of us are used to. Instead of simply adopting a baby or a young boy, they adopted young men who displayed the intelligence and knowledge of business required to ensure that their name and legacy endured until the next generation. And while the law no longer prohibits people from passing down their fortune to female heirs, the age-old tradition of electing a 'mukoyoshi' (or 'adopted son-in-law') is still very popular in Japan.