---
This "Shower Beer" Is Actually Designed to Be Consumed in the Shower
Posted: 05 Jan 2017 07:00 AM PST
If you're looking to get a head start before a wild night out with your friends, this Shower Beer created by Swedish brewery PangPang in collaboration with creative agency Snask will probably do the trick.
The shower hardly seems like the best place to enjoy a nice, cold brewsky, yet some people have been doing it for years. However, the problem with showers is that they're usually quick, so you don't have the time to gulp down a whole bottle of your favorite ale. To solve the problem, a group of ingenious Swedes have come up with a smaller, stronger beer designed to be consumed while showering.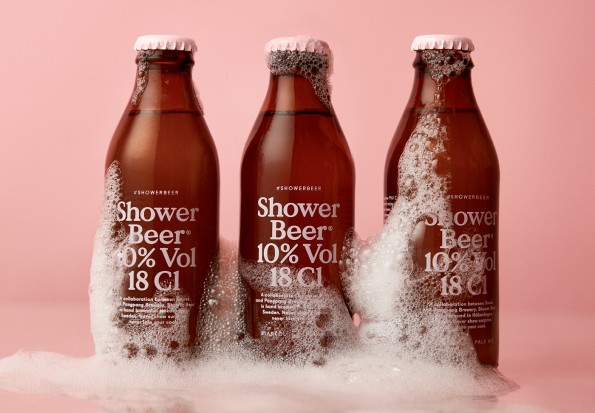 This American Couple Are the World's Most Tattooed Senior Citizens
Posted: 05 Jan 2017 06:21 AM PST
At age 67, Charlotte Guttenberg holds the Guinness record for the world's most tattooed female senior citizen, with 91.5% of her body covered in artistic inking. Her life partner, 75-year-old Charles "Chuck" Helmke, holds the same record for the male category, with 93.75% of his body covered in colorful tattoos.
Charlotte only started getting tattoos 11 years ago, when she decided to get a butterfly inked on her chest, as a birthday present. She had always been fascinated with tattoos as an art form, but her late husband, who passed away in 2001, didn't approve of them. She hadn't planned on having almost her entire body covered in permanent artworks, but after that first tattoo, she couldn't stop adding more of them, and over just one decade, she managed to cover 91.5% with ink. She is now pretty much a walking, talking body mural.
Indian Woman Returns Home 40 Years After Being Laid to Rest
Posted: 05 Jan 2017 04:45 AM PST
Two Indian sisters recently got the shock of their lives after their 82-year-old mother showed up at their doorstep 40 years after they had laid her body to rest on the Ganges river, following a cobra bite.
It all started on a summer day in 1976, when 42-year-old Vilasa, a woman from Bidhoo village, India's Kanpur district, went out into the fields to collect fodder for the family animals, as she had done countless time before. Only this time, she unknowingly got to close to a black cobra snake, and got bit. Upon returning home, her family immediately took her to a traditional healer, but his methods failed to alleviate the effects of the venom, and Vilasa soon lost consciousness.
Thinking she had died, her family wrapped the woman's body in cloth, placed it on a wooden float and released into the sacred Ganges river, hoping it would bring her to life. Open-air cremation is practiced by millions of Indian Hindus, with the ashes of their loved-ones then scattered in holy bodies of water, but in the case of snake bites, some believe that the sacred river can wash away the poison from the body and bring the person back to life. It wasn't something Vilasa's family actually expected, though.