---
Family Looking for Nanny to Join Them on Trip Around the World Receives over 19,000 Applications
Posted: 11 Jan 2017 09:12 AM PST
M'Kenzie and Derek Tillotson, of Utah, USA, are planning to embark on an epic trip around the world with their three young children, and are looking for a travel nanny to assist them on their journey. They posted a Facebook video hoping to get a few dozen applications, but ended up with messages from nearly 20,000 people hoping to get the job.
The couple runs a family travel blog called 'Five Take Flight' and recently decided to sell their home in Utah and go on an unforgettable adventure around the world.  They plan to leave in July, flying from their home in Utah to New York City, then to Iceland, and the rest of Europe. They'll return to their home city for a two weeks over Christmas, before flying to Hawaii, New Zealand, and finally Asia. It sounds like an incredible experience, but it's also going to be pretty tough to manage with three kids, which is why they've decided to take someone to travel with them and lend a hand when necessary.
"We're looking for somebody who's going to love our children as much as we do, even when they're acting like this," M'Kenzie says in the video, while two of their children goof around in front of the camera. "You'll be an honorary member of the family and will be treated with respect and be able to voice your opinion." The travel nanny will be required to handle most of the homeschooling for the couple's two boys, while also looking after their baby sister and also handle some of the cooking and cleaning.
New York Restaurant Serves $2,000 Pizza Covered in Edible 24K Gold
Posted: 11 Jan 2017 06:39 AM PST
Pizza has long been regarded as the food of the people; It's cheap, easy to make and tastes amazing. But that doesn't apply to all pizzas. For example, a restaurant in New York City serves a pizza that only the 1% can afford. It's priced at $2,000 and comes covered in strips of edible 24K gold.
The Industry Kitchen restaurant in New York's South Street Seaport was inspired by the nearby Financial District, which attracts the wealthy from all over the world, to create the "epitome of decadence" pizza. It's officially called 'the fance'za', but epitome of decadence sounds much more appropriate. This outrageously expensive treat consists of a black pie made with squid ink, Stilton cheese imported from England, Foie Gras and truffles from France, Ossetra caviar harvested from the Caspian Sea, edible flowers, and lost of edible 24K gold strips and flakes from Ecuador.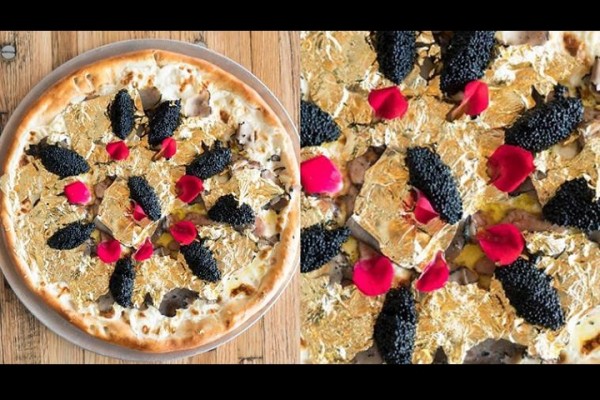 Woman Tries to Smuggle Boyfriend Out of Prison in a Suitcase
Posted: 11 Jan 2017 03:25 AM PST
A Venezuelan woman was caught trying to get her detained boyfriend out of Puente Ayala prison by packing him in a large suitcase. They almost got away with it too, but guards became suspicious after seeing the woman struggling with the suitcase.
25-year-old Antonieta Robles Souda arrived at the Puente Ayala prison in Barcelona, Venezuela, last week, to visit her boyfriend, José Antonio Anzoátegui, who serving a sentence of 9 years and 8 months for car theft. She had brought their six year-old daughter and a large pink suitcase, which is not at all uncommon for overnight stays by family members in South American prison. Little did the guards know that Souda and Anzoátegui were planning to leave the prison together the next day, as a big happy family.