---
The Japanese Train Station Built Around a 700-Year-Old Tree
Posted: 26 Jan 2017 11:56 AM PST
Kayashima Station, in Neyagawa, a north-eastern suburb of Osaka, is one of the most unusual-looking train stations in all of Japan. Despite being located on an elevated platform, Kayashima has a giant broccoli-like tree pocking out through a rectangular hole in its roof.
The Big Kusu Tree of Kayashima, as the camphor tree is commonly known in Japan, is older than most records, but officials estimate that it has been around for at least 700 years. In 1910, when Kayashima train station was originally opened, the tree stood right next to it, offering travelers some much needed shelter on both sunny and rainy days. It didn't bother anyone for the next 60 years, but as Japan's population increased at an accelerated rate, overcrowding became a problem and local authorities decided that the train station needed to be expanded. Plans were approved in 1972, and the old camphor tree was going to be cut down.
Confusing Photo Turns Michigan Man into Internet Sensation
Posted: 26 Jan 2017 09:55 AM PST
When Andy Poineau of Boyne City, Michigan, posted a set of photos showing him seemingly levitating on the clear water of Lake Charlevoix, he had no idea he would soon become an overnight internet sensation. But looking at the photo below, it's easy to see why people went crazy over it.
At first glance, this photo of Pointeau, a 63-year-old architect, sitting on what looks to be still water, looks like a classic case of botched Photoshop. It just looks like someone cropped him and his shovel out of another photo – probably of him shoveling snow – and just placed him in the middle of the lake. But as several photo-editing experts have already pointed out on social media, this image has not been altered in any way. It's just a rare photo of a brave man sitting on the perfectly clear ice of a frozen lake.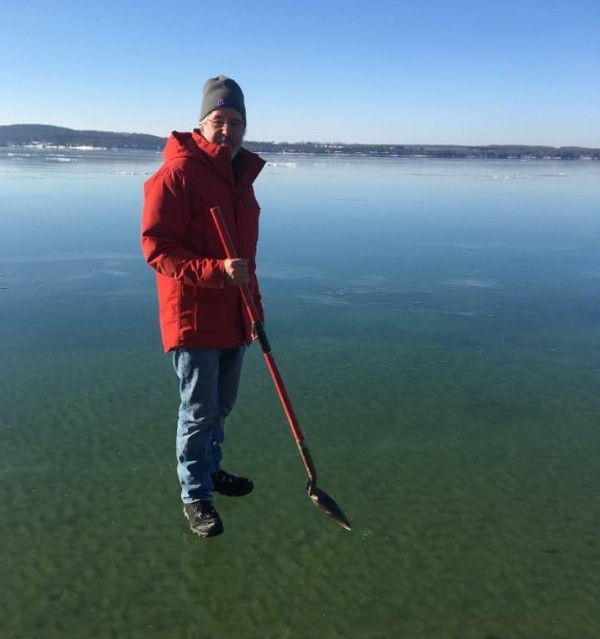 Man Cycling Home for Holiday Realizes He Has Been Going in the Wrong Direction for Over a Month
Posted: 26 Jan 2017 08:23 AM PST
A migrant worker hoping to make it back home for the Chinese New Year realized he had been riding his bike the wrong way for over a month, when a police crew stopped him for cycling on the side of an expressway.
The unnamed man was apparently working in Rizhao, China's Shandong province, but after spending most of his money in internet cafe, he didn't have enough to by a train ticket to his native city of Qiqihar, in north-east China. Determined to spend the holidays with his family, the guy decided cycling all the way home was his best option, so he hopped on his bike and started what he thought was a nearly 1,700 kilometer journey. The problem was that he didn't really know the way, and since he was also unable to read the road signs, he decided to rely on the directions of total strangers. That turned out to be a very bad idea.