---
Belgian Girl Travels to Silicon Valley to Reclaim Her Disabled Facebook Page
Posted: 19 Jan 2017 09:41 AM PST
After waking up one day to find that her popular Facebook page had been taken down by Facebook, and after getting no reply to her messages, a young girl from Belgium eventually got on a plane to San Francisco to confront Facebook about the issue in person.
23-year-old Jamilla Baidou is somewhat of a celebrity in Belgium. She was a contender on the Belgian version of The Voice, in 2014, when she managed to impress both the judges and the nationwide audience with her musical talent. People wanted to see more of her even after she was eliminated from the popular TV show, so she kept them up to date with her projects on social media networks like Facebook and YouTube. Up until December 2016, she had amassed more than 157,000 fans and many of the videos she posted had over one million times. Vlogging had become her profession, and her Facebook page was the most important platform, but one day disaster struck – her page suddenly disappeared.
This Garlic & Holy Water Handmade Soap Is Sure to Keep Vampires at Bay
Posted: 19 Jan 2017 07:38 AM PST
Are vampires real? Well, some people seem to think so, and a few actually identify as real-life vampires, but the jury is still out on whether Dracula-like creatures actually exist. But even if you're skeptical about vampires, why not take every precaution to avoid becoming their dinner. After all, better safe then sorry, right?  PoJo's Pure Vermont Soaps, a small online shop specializing in handmade soaps, has just the thing to keep bloodsuckers away – a special bar of soap made with real holy water and garlic oil.
"Garlic & Holy Water Vampire Repelling Soap contains the same luxurious honey and goat milk ingredients as the standard fragrances, but is specially formulated to repel even the most aggressive vampires," the product description states. " A potent blend of garlic oil and Holy Water allows you to simply wash away the danger of vampire attacks. "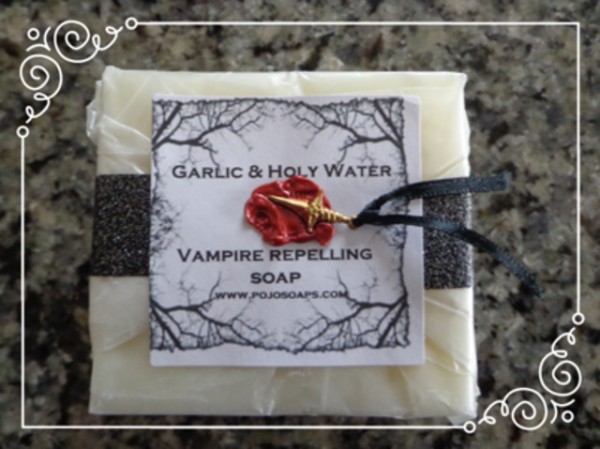 This Normal-Looking House Is Actually A Modern Hobbit Hole in Disguise
Posted: 19 Jan 2017 06:03 AM PST
You might not be able to tell by the photo below, but this seemingly average two-storey colonial brick house, in Clinton Maryland, is actually a giant Hobbit hole dug into a small dirt mound. It just happens to have a cleverly-designed facade.
Popularly known as the "coolest house in Maryland", this unusual dwelling was built in 2006, by Formworks Buildings Inc., a company that has been designing eco-friendly earth-sheltered homes for the past 30 years. The 3,300-square-foot property features three bedrooms, including a main-level master suite, two large bathrooms, and an attached garage outback. The brick facade does a good job of concealing the fact that this is in fact an underground house, or, more specifically, dug into a small mound.